Weddings at The Mackey House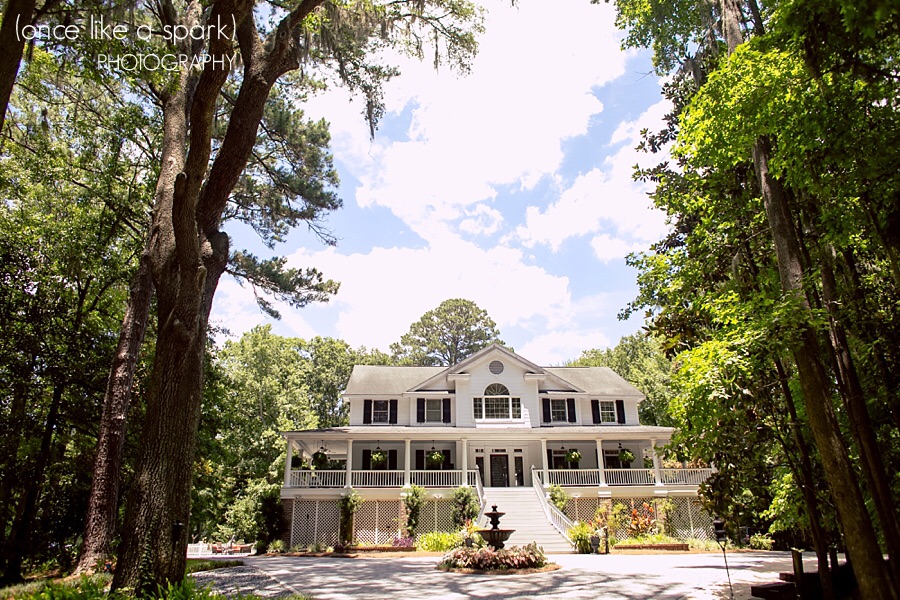 At The Mackey House located only 5 minutes from Historic Downtown Savannah Georgia, hospitality is everything and The Mackey House strives to make your  wedding beautiful and full of southern charm. The Mackey House in Savannah Georgia  sits on the original 440 acres that features a large colonial home, spacious 2500 sq ft. deck with wraparound porch, 4000 sq ft. climate controlled pavilion, off street parking for up to 300 cars and beautiful lush gardens setting the perfect background for your perfect Savannah wedding that your guests will not soon forget.
A professional host, hostess and staff are provided for your wedding. They welcome the opportunity to make your special affair a unique and memorable experience.  The Mackey House staff will assist you, your representative, ceremony official, wedding coordinator, or wedding director in any way possible to ensure your special event is a memorable experience for you and your guests.
At The Mackey House, we believe in the details, so we can provide you with a team of in-house wedding consultants who can work with you to make your Savannah wedding both beautiful and stress free. Our Savannah wedding venue offers you choices in wedding style since we have an historic style home, as well as a manicured garden and large climate controlled pavilion that can provide you with the indoor or outdoor Savannah wedding location of your dreams.
And for after your wedding ceremony? The Mackey House is not just the premier Savannah, Georgia wedding venue, but is also a full service wedding reception site.
Our Mackey House wedding planners can help you create the wedding and reception of your dreams by planning menus, flowers, a photographer and all the details to make your wedding and reception perfect and unique to you or we welcome outside planners to help plan your day.
Savannah, Georgia is a city with lots of history, charm, and elegance, which is why The Mackey House with our garden and historic style home, is the perfect choice for your Savannah wedding venue and reception site. Your wedding is the event of a life time, so have a once in a lifetime wedding at Savannah's best wedding location and reception venue.
Need some tips to save on cost – simply changing the day of the week or the month of the year can help you save. – call 912.234.7404 to inquire about pricing.
Most recent video. Filmed 9/10/2015
Check out our new fountains, driveways, walkways, expanded deck and more. 
For an additional charge, The Mackey House can also provide:
Event Catering
Photography
Videography
Ice Sculptures
Floral Design
Wedding Cake
Disc Jockey
Wedding Invitations
Fireworks
Piano Player
Valet Parking
Wedding Planner (or we can work with one you select)
Transportation for bridal party
Destination Wedding
Picking a place that's special to you and your soon-to-be-spouse is just one of the numerous reasons to have a destination wedding. Let us work with you to not only showcase our part of the world, but incorporate downtown Savannah as well. We can work as your wedding planner or with your wedding planner to ensure all your needs are met – even if you're miles away during the planning process! For your special day the Mackey House can also provide you and your family up to 6 hours of transportation on your wedding day. We provide a 15 passenger shuttle with chauffeur. You can use it for getting to the wedding, ceremony and home/hotel, etc.  This is just one way The Mackey House can help you enjoy your day stress free. Below are just a few reasons to choose Savannah to celebrate one of the best days of  your life. We are only a 5 to 7 minute drive from Historic Downtown Savannah.
"America's Best Downtown" – Forbes Magazine
"Platinum Choice Award Winner" – Smart Meetings Magazine
"Top Food & Wine Destination" – Trip Advisor
"Gold Service Award" - Meetings & Conventions Magazine
"Top 10 U.S. Destination" – Condé Nast Traveler
"America's Most Attractive People" – Travel + Leisure
"Top 15 Coolest North American City" – MSN.com
"Best City for Foodies" – Travel +Leisure
"World's Best City" – Travel + Leisure
"Best U.S. Vacation" – U.S. News & World Report
"America's Best City for People Watching" – Travel +Leisure