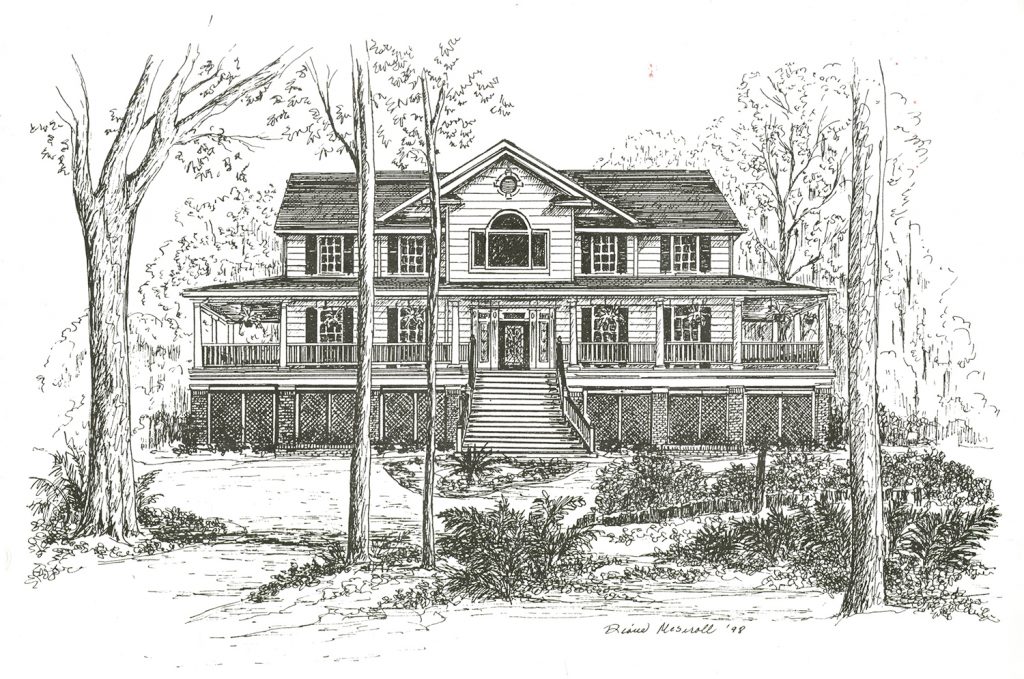 The story behind The Mackey House dates back to 1931, when Harry Martin and his wife, Mamie, decided to pursue their dreams of starting a dairy farm, raising Jersey cows. Along with the cows—which came from The Biltmore Estate in Asheville, N.C. and beloved for their rich, sweet milk—the couple purchased 440 acres of farmland less than a 10-minute drive from downtown Savannah. After Harry and Mamie's passing, the property was handed down to their 4 children and 10 grandchildren. Nearly a century since it was an old farm, the land has developed into one of the most beautiful locations in Savannah, Georgia.
They called it Red Gate Farms. And it served not just as a thriving dairy farm for their beloved cows but home to various other businesses, owned and operated by family members over the course of nearly a century and still to this day.
Honoring the past, excited for the future. The photo is of young Laura Mackey with her siblings on the porch of her grandparent's home, photographed in 1955. The house has since burned down, but the wrought iron circle of love remains to this day at the Mackey House estate.
In 1997, the Martin's granddaughter, Laura, and her husband, Fred Mackey, built their perfect lakefront home on a portion of Red Gate Farms they inherited from her grandparents. The lake, ponds and streams, Southern storied trees, and their vision for verdant, flowerful gardens—everything about the natural space inspired them to construct their Georgian-style residence to be stunningly gorgeous yet comfortable—a quiet beauty designed to invite joy and peace.
That said, building the home inspired both Fred and Laura, in particular, who as a revered owner of successful childcare facilities in the Savannah area, embraced every opportunity in life as an adventure. Coincidentally, just as construction was wrapping up, the couple hosted their oldest daughter's wedding reception, an event that would mark the first of many wonderful parties at their home. Before they knew it, friends started inquiring about holding their weddings there, too. So Laura and Fred dabbled in it, learning the wedding-event ropes. Then with a little advertising in a local wedding magazine, the business officially took off.
Since 1997, the family has hosted countless weddings for brides and grooms from throughout the South, country, and worldwide. People travel from all over, even landing—whether for security, privacy or VIP convenience—an occasional helicopter on site. Today, The Mackey House, recently remodeled and now ADA accessible to ensure the success of upscale, personalized events, continues to be operated by The Mackey Family.
Meanwhile, Laura and Fred remain involved, offering a very loving approach to their leadership roles, beautifying the generations-old, seasonal gardens, greeting guests, and making sure that every experience feels truly exclusive yet as relaxing as possible, reflecting the very best of Southern hospitality, charm and connection. Laura is often out in the gardens, helping direct which plants will go where, making sure the dramatic ferns are spit-n-shined, and that, above all, the flowers—inspired by her mom and grandmother and a common love among the generations of their family members—bring stunning beauty and reflect romance wherever one looks. More than just an owner, Laura—a natural caretaker—is The Mackey House's steward, ensuring beauty and brilliance as the estate celebrates its 25th anniversary this year. In sync with Laura owning childcare centers for an impressive 50 years, is the farm's centennial birthday, slated for 2031.
With so much history tied to both the family's former farm and its special-event business today, the entire Mackey family has made a commitment to ensuring The Mackey House remains a breathtakingly beautiful, highly unique wedding venue. In fact, a new vision around onsite organic farming and a farm-to-table venture has taken seed. Already starting to sprout, this forward-thinking direction strives to complement the Mackey's successful wedding business while remaining rooted to the family's farm and deeply reflective of its owners' values: caring, connection and community.