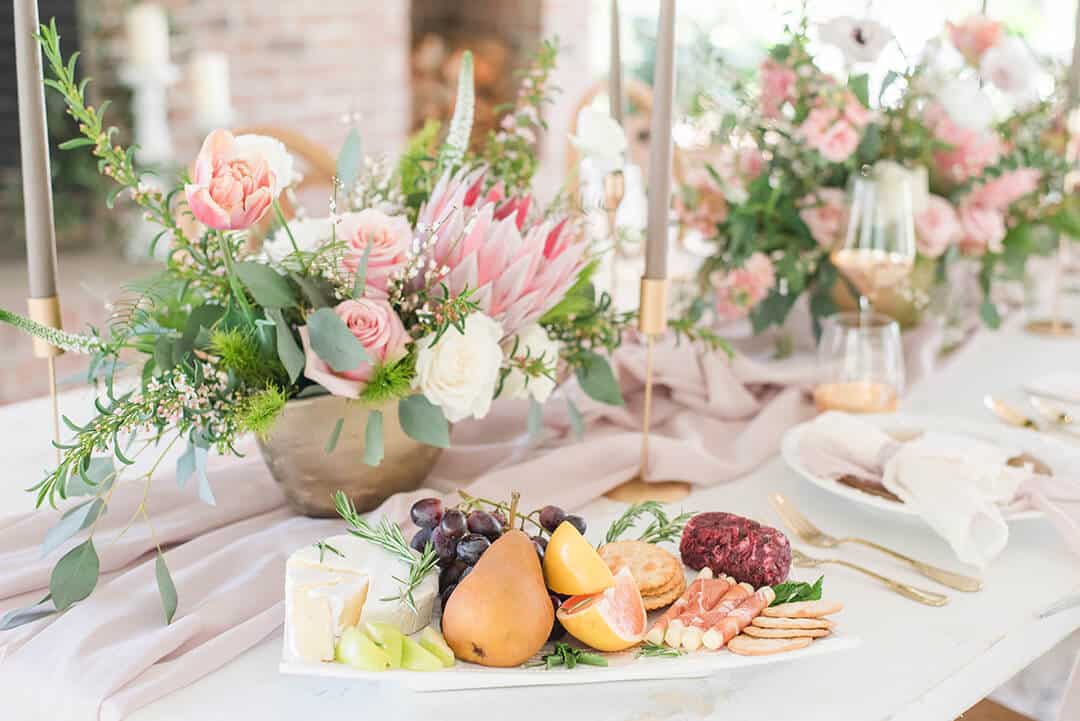 6 Tips for Pulling Off a Brunch Wedding
Brunch weddings have become the ultimate wedding trend over the past couple of years, and for good reason. For those who want their wedding to truly stand out from the rest, celebrating your marriage with waffles and mimosas could be your perfect route. However, from the type of cake you cut to the types of activities you plan for your guests, brunch weddings differ from traditional weddings in more ways than just the time of day it is held. To help you plan your morning affair, here are six tips for pulling off a brunch wedding.
1. Focus on timing
To pull off the perfect brunch wedding, timing is everything. The typical start time for a brunch reception is around 11:00 a.m., and they can last until 2:00-3:00 p.m., but of course, it is up to you whether you want a more breakfast or lunch-time reception. No matter the hour, although you may be wide awake at sunrise preparing for your big day, it is crucial to think about your guests and how some may have just woken up for your event. To get people in the celebratory mood, ease them into it by serving plenty of coffee and light snacks as they arrive. By curbing the yawns early in the morning, you are sure to have a livelier atmosphere as your wedding day creeps into the afternoon. When you book with The Mackey House, we are flexible with timing, allowing you to start your brunch wedding whenever it suits you and your guests most.
2. Create a trendy menu
When your guests receive their invitation for your brunch wedding, they are likely to instantly start dreaming about the spread of mouth-watering brunch foods that will be served. With brunch becoming a more and more popular meal of the day, there are tons of both traditional and trendy foods to include during your reception. Along with your traditional breakfast foods such as scrambled eggs, bacon, sausage, and pancakes, you can get creative with your brunch menu by serving frittatas, chicken and waffle sliders, shrimp and grits, and more. For guests who are craving lunch, you can never go wrong by serving paninis, sandwich wraps, salmon dishes, salad and more. As for how you serve your food, consider incorporating food stations (think create-your-own crepes or omelets) to your traditional buffet-style or served meal.
3. Raise the bar
Nothing pairs quite so seamlessly as marriage and mimosas do. It would be hard to come by a brunch wedding where guests aren't mingling around mimosa stations, but that doesn't mean mimosas need to be the only drink served. Bloody Mary's, Bellini's, and berry mojitos are light beverages that also hit the spot during a daytime, Savannah wedding. As mentioned before, coffee should also be plentiful, especially for your night owl guests, and coffee stands around your wedding can add a cute touch to the venue. Freshly prepared juices of all kinds will also complete your beverage offerings during your brunch wedding.
4. Plan afternoon activities
During an evening wedding, it is easy to serve up some drinks and have a DJ keep the crowd celebrating on the dance floor for hours on end. However, when your wedding is set for the morning or midday, a little more creativity needs to go into how you keep guests entertained. Of course, you can always have a DJ and dance floor ready for those who can get down at any time of the day, but for guests who may not be up to dancing in the a.m., lawn games such as corn hole, bocce ball, life-size Jenga, or Spikeball can serve as exciting alternatives. If your wedding is inside, you can set up some board games, rent a photo booth, and more for some added entertainment. As one of the more versatile Savannah event venues, you have access to multiple spaces at The Mackey House, allowing for outdoor games in our garden or by the lake, or indoor games inside our mansion.
5. Opt for a cake alternative
When you think about traditional weddings, you probably imagine newlyweds cutting their traditional, three-tiered chocolate or vanilla cake with heavy filling and frosting. However, for a brunch wedding, there are a variety of other mouth-watering cake options that complement a morning or afternoon reception. Since both you and your guests may not be up to the heavier style cakes midday, try to opt for a lighter, breakfast-style dessert. These can include angel food or coffee cake, or you can even go the extra mile and have a cake made out of doughnuts, pancakes, or crepes. These 'cakes' are less likely to bog down your crowd than heavier options, and they perfectly resonate with your overall theme.
Brunch weddings at The Mackey House are truly unique events for everyone involved. We love the creative flare that goes into throwing brunch weddings, so we make the planning process as seamless as possible. Whether you want to start your wedding day early in the morning or more towards the afternoon, we are flexible and work with you to make sure the timing works out flawlessly. We are happy to fully set up two areas for your brunch wedding, so you can have a garden ceremony with a covered-deck reception, a lakeside ceremony with an open-air reception in our pavilion, or any other combination you prefer. For more information on throwing your wedding at The Mackey House, feel free to contact us today!
---
Planner and Designer: Taylor'd Southern Events
Flowers: Harvey Designs
Rentals: Amazing Event Rentals
Candles and Candle Sticks: Creative Candles
Photography: Hosanna Wilmot Photography
Calligraphy and Invitation Suite: Birdie Lane & Co