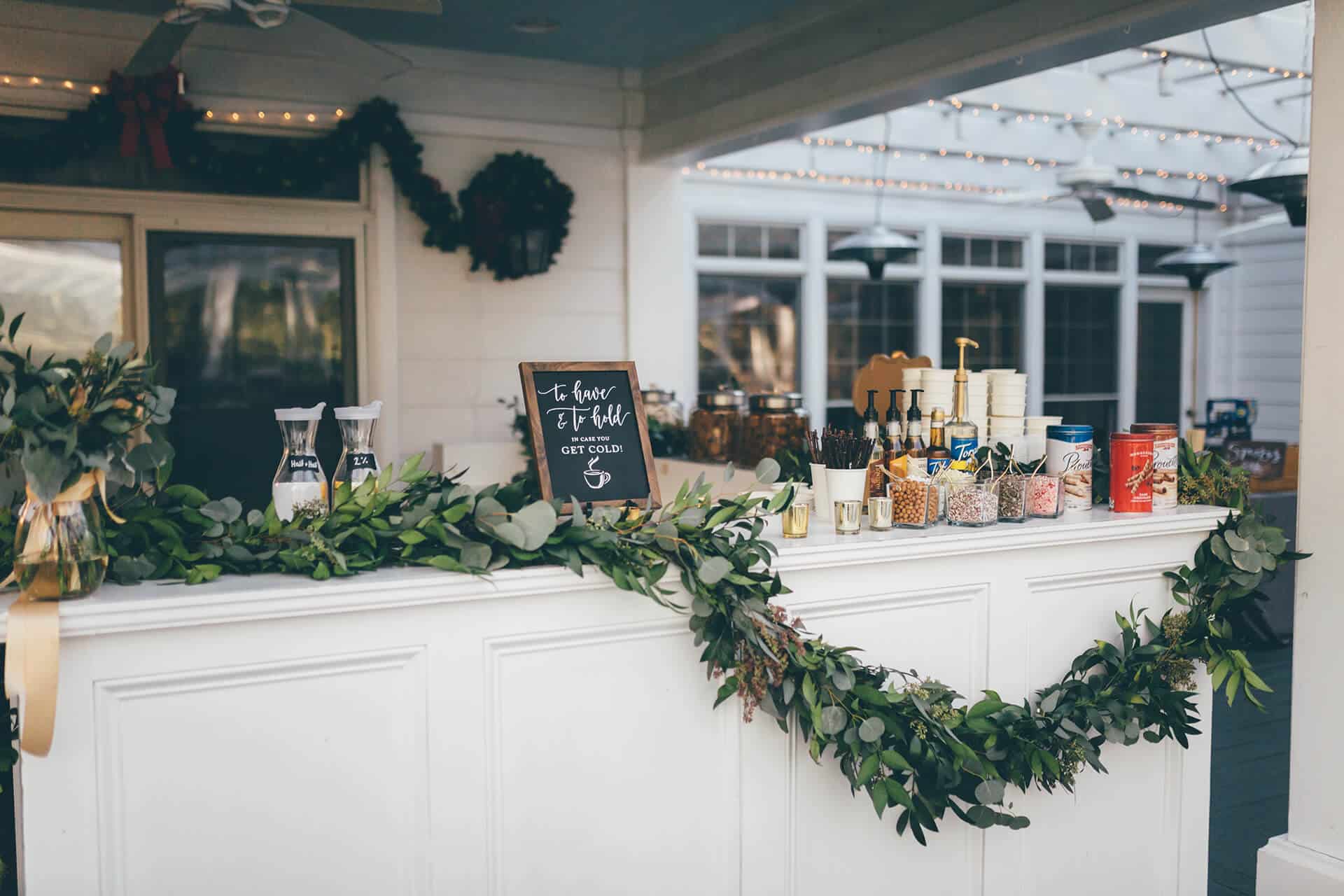 Charming Ideas for a Holiday Wedding
Getting married in Savannah around Christmas and New Year's makes for magical weddings as the city turns into its own kind of winter wonderland. Although many guests will open your wedding invitation and expect to see a spring or summer date, throwing a wedding in the winter will make your event stand out from the rest with all of the unique decor that only holiday weddings can pull off. To help you prepare for your big day, here are some charming ideas for a holiday wedding.
Bring the outside, inside
Holiday weddings are not complete without bringing the seasonal plants associated with winter time into your wedding. Some of the most popular plants that are incorporated into weddings during the holiday season are evergreen branches, red berries, and pine cones. Not only do these plants create stunning decor for your venue, but they also bring in the fresh scent that we expect during the holidays. Adding berries and evergreen to your bouquet, centerpieces, wreaths, party favors, and more add a pop of red and green to your venue.
Embrace the cold weather
Although Savannah hardly sees snow, your wedding day will most likely be chilly, especially after the sun goes down. Instead of trying to ignore the chill, embrace the cold weather and make it a part of your overall theme. Throughout the venue, offer festive blankets and homemade hand warmers to keep guests comfortable. Custom signage with plays on wintery sayings also gives your holiday wedding a charming, unique touch.
Add subtle holiday touches
Adding subtle holiday touches to your wedding will keep your venue looking classic and elegant. For centerpieces, create stunning arrangements with neutral colored ornaments by making them a part of flower bouquets, laying them around candles, or filling vases with them. Red bows, stockings, and wreaths can be hung sparingly around the venue to blend into the overall holiday theme, while an abundance candles, string lights, and lanterns will give the venue a warm, golden glow.
Incorporate winter colors and textures
Instead of creating a color scheme of the classic red, green, and blue hues we see during the holidays, create color schemes that will not overpower the venue. A white theme with hints of red sets the mood for a stunning winter wedding venue or opt for pops of gold or silver in place of the red. Holiday wedding brides also have the chance to incorporate seasonal textures into their wedding. Velvet wedding shoes, bridesmaids' dresses, and drapery over the wedding arch or even fur pillows, shawls, and other accents really put the final touches on a holiday wedding.
Serve seasonal food and drinks
The food and drinks you serve at a holiday wedding are where you can really set the tone for the occasion. For main courses, comfort foods like turkey, ham, casseroles, potatoes, and more will put your guests in the holiday spirit, while dessert stations with smores, caramel apples, and mini pies will hit the holiday sweet tooth. For drinks, guests can warm up with coffee, apple cider, hot chocolate, original mules, or cocktails with hints of cinnamon and peppermint.
When you are looking for places to get married in Savannah for a holiday wedding, look no further than The Mackey House. With pine trees surrounding the venue, a double-sided fireplace in our pavilion, and a cozy indoor space, our venue completely encompasses the spirit of the holidays. Our staff sets up two venue spaces of your choosing with tables, chairs, heaters, and string lights, and by allowing guests to bring in their own decorations, you can dress up our venue however you choose for your holiday wedding.