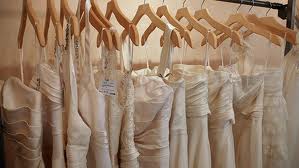 Choosing the right wedding dress
While hangin' out on Facebook, we've noticed a number of cool sites designed to help you find the perfect wedding dress.  There are several that we like – most allow you to put in your measurements and see what a number of the styles and colors would do for you.
David's Bridal – Dress Your Wedding
Perfect Wedding Dress Finder
Because traditional white is no longer the norm in all cases, brides have a plethora of options for their perfect day. The most important things to keep in mind as you're shopping are:
1)     Comfort – whether going for one or two dresses, you're going to have pictures in both, and you want the dress (or dresses) to be something you're not afraid to smile and be yourself in.
2)     Style – what looks good on you, what makes you feel pretty, what allows you to move, what makes you say, "yes, this fits me."
3)     Fit – you want to accentuate your shape, show off your best feature – don't be afraid to pick a dress that allows you to feel your best about you!
It's vital to remember this is your day and your wedding day should feel in every way that the day belongs to you.  The dress is an important part of how you see yourself.  Take your time, weigh your options, try on every dress you want to try on, and choose the one that allows you to feel like the dress, and the day, is yours for the taking.