Classic and Elegant Winter Wedding Ideas to Put You in the Holiday Spirit
It's the holiday season! At The Mackey House, we think this is the most wonderful time of the year.
We pull out all the stops when it comes to Christmas decor. Imagine three Christmas trees, festive greenery from Red Gate Farms, and lots of holiday cheer.
Whether you want to fully embrace the holiday spirit with Christmas-inspired decor or you're looking for a more low-key vibe with a subtle nod to the holidays, Laura Mackey has some winter wedding ideas that will put you in the holiday spirit without making your wedding look like a Christmas party.
Get Cozy With Winter-Inspired Attire.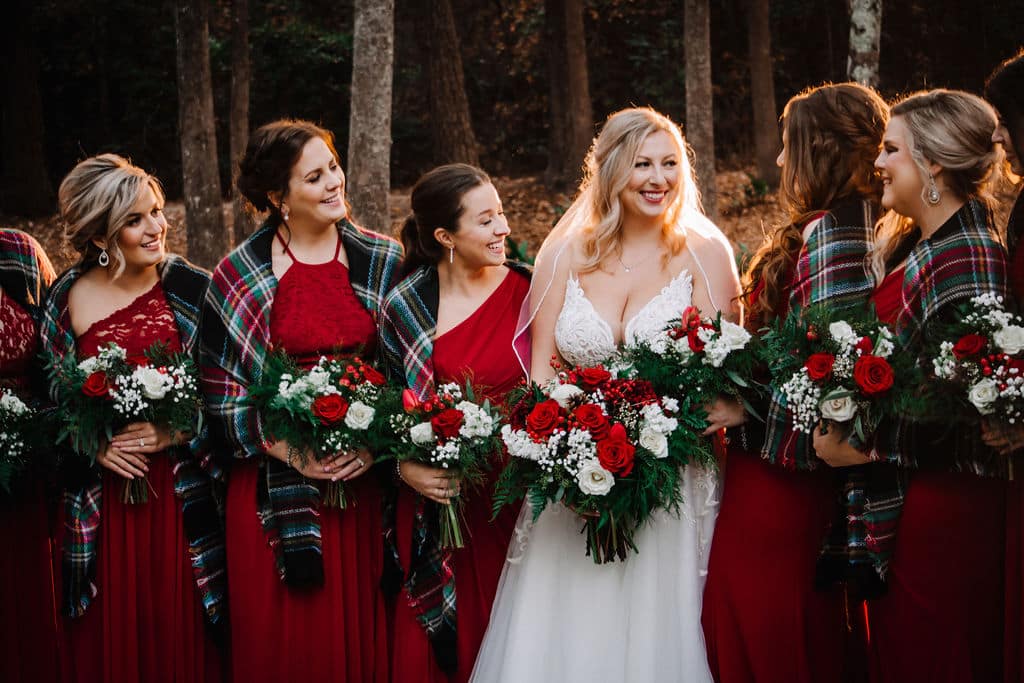 A red, white, and green color palette is a classic choice for holiday weddings. Bold red bridesmaids dresses are classic, while a plaid shawl offers festive and cozy comfort for your bridesmaids. This look is perfect for the holidays and beyond.
For a modern twist, choose bright, non-traditional colors like hot pink, orange, or even neon yellow in your plaids.
Add a Touch of Sparkle to Make the Season Merry & Bright
If plaid isn't your thing, go glam with a gown that sparkles and shimmers, catching the candlelight and twinkle lights that are mainstays during long winter nights.

Help Keep Long Winter Nights Bright With Plenty of Twinkle Lights
Twinkle and market lights are a mainstay at weddings and particularly festive during long winter nights. Use them abundantly in multiple locations, like weaving them through the greenery of your arbor, winding them around cocktail tables, or even hanging them in your reception space.
Quick tip: Play with fun and festive shapes, such as stars or triangles, for a subtle nod to the holiday season while remaining modern and adding interesting touches.
Keep It Classic and Elegant With a Green, White, and Gold Palette
A palette of white, green, and gold is classic during any season. Combined with wintery greenery and holiday-inspired details, this clean palette becomes a warm and inviting winter look in December. Hardy white florals, such as roses or mums, and golden flatware complete the look.
Subtly incorporate the holidays by wrapping guest favors in the plain white paper tied with festive kitchen twine with a sprig of local cedar tucked in.
Winter-inspired signature drinks.
Whether served hot or cold, winter and holiday-inspired, signature drinks help honor the holiday season in a small but meaningful way.
While eggnog has long been associated with the holidays, creamy hot chocolate is always a crowd-pleaser, and mulled wassail can be a delightful seasonal treat.
Holidays at The Mackey House
Whether you want to infuse the holiday spirit into every detail of your wedding or keep it low-key with a few thoughtful touches, The Mackey House can help you get the perfect look for your winter wedding with festive touches, such as red bows and twinkle lights or a beautiful blank canvas like our gardens or open-air pavilion.
Inquire Now For Pricing and Availability. Wondering if The Mackey House is the perfect venue for your wedding? We are now booking for 2021 and beyond.