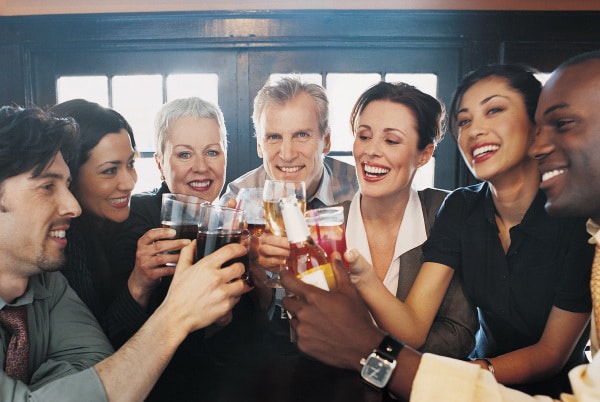 Ah, the corporate event. Rarely do people, more specifically employees, associate a good get-together with a business luncheon or event.  However, there are ways to up the décor, entertainment and atmosphere to make your next corporate gathering one that will have employees feeling reconnected and looking forward to the upcoming year.
The Venue:
Choose a different location.

Even if the event you're planning isn't for a large crowd, taking it out of your building will make a huge difference. Employees should look forward to this function, and let's face it, all employees look forward to getting out of the office.
Choose a place that caters – everyone loves food, be it hors d'oeuvres or a full course meal.
Don't cram everyone inside. Find a venue that offers an outdoor area as well.
Don't go the traditional route – i.e. Local restaurant, hotel conference room.
Entertainment:
Each corporate event is different. Some are for team building while others are a celebration to bring employees together, so choose appropriate entertainment. Here are some options for either type of occasion.
Band
D.J.
Guest speaker
Video

This can be a fun, creative video that someone puts together about the employees – purely for a laugh. This makes for a great surprise. Think back to your senior video from high school.

Karaoke
Game tables – poker, blackjack, etc.
Alcohol: Ye or Ne?
Some businesses choose not to serve alcohol at their events. However, if the purpose of your event is more celebratory than informative, serving alcoholic beverages can be a good way to make employees feel like they're there to enjoy themselves and NOT to work or talk business.
For evening/nighttime functions a full bar is appropriate
For daytime events it's okay to stick with just beer and wine.
Treat employees to an open bar.
If the event is dressier, specialty cocktails or champagne are good options.
Whether your corporate event is purely a party or is a means of advisory, the Mackey House is a great place to gather and connect. And even if you don't choose to have your function with us, know that we are always here to help you plan a successful affair.
(photo for blog by: Amsterdam Billiards and Bar)