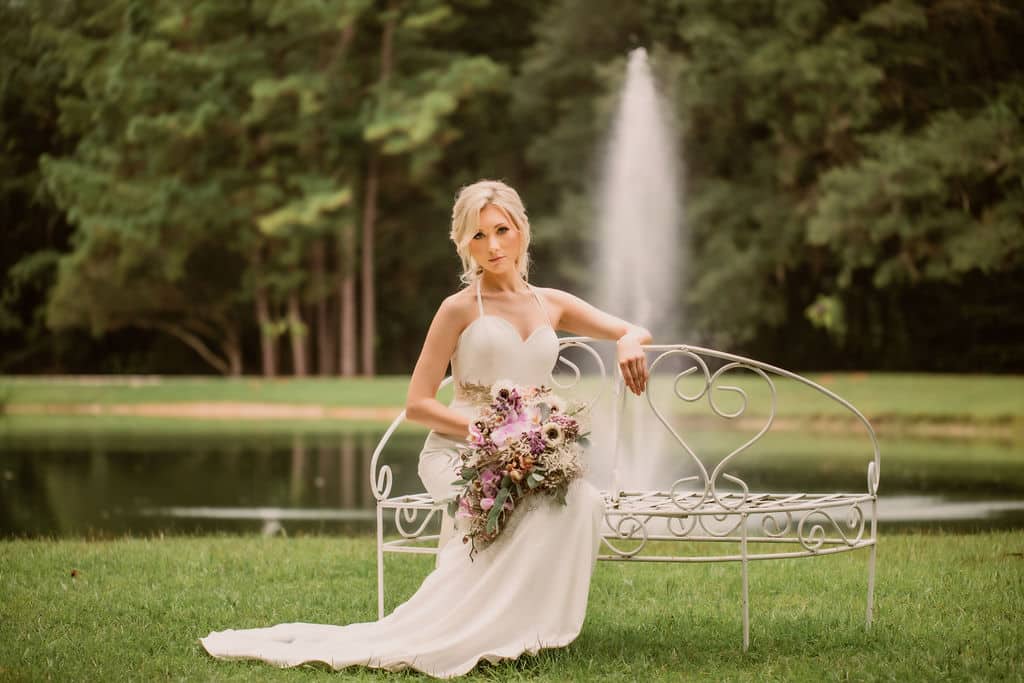 Elegant Touches that Elevate an Outdoor Wedding
Savannah is known for its brilliant sunshine during the spring, summer, and fall and relatively moderate climate (as compared to our friends up North!) during the winter. As a result, many of our couples choose to enjoy one of our favorite features about The Mackey House: our abundance of outdoor space.
Few things make us happier than when couples request to recite their vows under our arbor or opt to celebrate under a tent overlooking our many gardens. Either option always deserves to be dressed up (we're toasting to a wedding after all!), so we thought we would share five of our favorite ways to create an elegant outdoor celebration.
Start with a Backdrop
When we think about wedding photos, those captured during your ceremony always feel like some of the most special. So, get married with a beautiful backdrop behind you! Our white wooden arbor takes on an extra elegant appearance when florists and designers add colorful draping, and the same can easily take our brick fireplace to another level in our Pavilion. Post-ceremony, the arbor offers a great space to transform for your sweetheart table, cake, or photo booth.
Go Al Fresco
Sometimes our couples request to dine and dance outside in our gardens al fresco. We're always happy to oblige! A wedding day is meant to feel extraordinary, and being able to glance skyward and see the stars definitely applies. Of course, we keep our eyes on the weather, and we'll be quick to suggest a tent or our Pavilion if the weather looks like it might not cooperate as your wedding day approaches.
Always Add Flowers
Flowers add elegance to any design, and they also help to tell the story of your relationship through texture and color. Low centerpieces can have a picked-from-the-garden feel, while tall centerpieces lean into a more dramatic presence. Either one looks beautiful outdoors! Without a tent, we have to admit we prefer tall centerpieces because they help to define the space more. We're always eager to see the flowers your florist designs!
Don't Forget the Candles
If you're planning to create a reception that feels intimate and romantic, think about working with your florist to include candles. They help to set the scene, and they also provide additional lighting. Plus, they create warmth and glow that always looks beautiful on reception tables when paired with centerpieces. For a different look, you can also consider bypassing flowers and using an abundance of candles instead!
Create a Moment for Your Cake
Everyone is always excited to watch couples cut their cake and then enjoy a piece, so create a spot for your cake to be on display! As we mentioned above, your ceremony backdrop can definitely serve this role. You can also consider placing it on a cake table within view of the dance floor and adding flowers to complete the look (tip: your cake table is a great spot to reuse bridesmaids' bouquets!).
How will you welcome elegance into your outdoor wedding at The Mackey House? We can't wait to hear what you have in mind!
---
Savannah Wedding Vendors Who Made this Elegant Look Come to Life
Venue: The Mackey House | Photographer: Magnolia + Wyld | Florals: Harvey Designs | Cake: Sugar Whisk | Hair & Makeup: Beyond Beautiful by Heather | Wedding Gowns: Camellia Bridal