Popping The Question To Your Girls
It's fun asking your best girls to stand by your side on your wedding day in the most creative way possible. Let's be honest, we know these ladies have stood by you during your journey of finding love, and now that you found it, you want them to be a part of your wedding experience as your bridesmaid. Since you already said "I do" to your husband-to-be, The Mackey House would like to share some unique ways to ask your friends and family members to be a part of your bridal party.
If you are a bride who has a knack for DIY (doing it yourself), this example is perfect for you! Go to the local craft store in your area and purchase a wooden jewelry box for you to paint and store items in. Inside this box reads "Be My Maid?" and contains small cards explaining important details like the wedding day and their role as a bridesmaid. It is up to you what else you decide to put in the box, but it's also good to know it can be used in the future as a personal jewelry box!
Create your own ring box or use an old one and place a saying like this along with a ring pop inside; it is such a cute way to ask a friend or family member to be in your bridal party! This is a funny, clever and not to mention, delicious way to pop the question.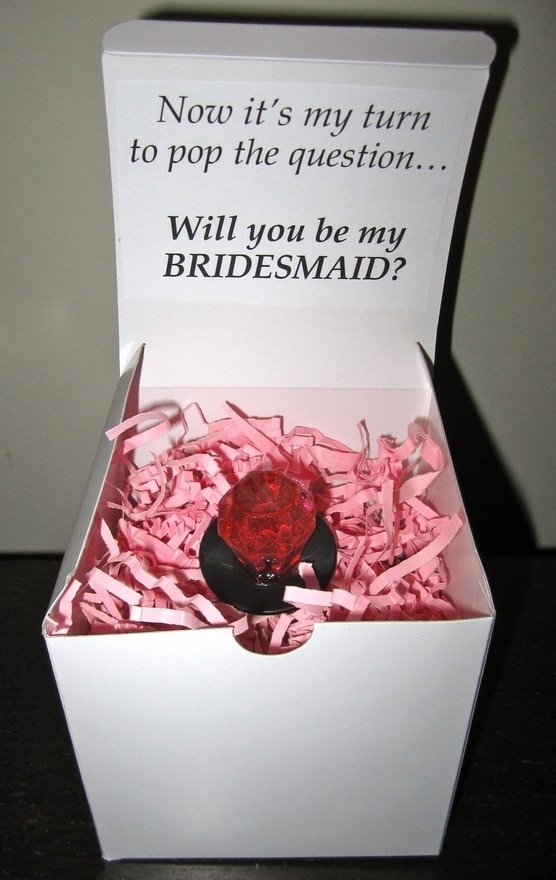 For all the Type-A brides out there, this one is for you! Give out customized planners with each woman's initials on the front and mark your big day in each of their calendars. This will help everyone stay organized and aware of all the festivities leading up to the special day. Erin Condren offers amazing custom-made calendars that include adorable labels, quotes and reminders—perfect for anyone who is addicted to their planner!
Sometimes simple is the best option to take, like this idea. We love the printed poem this bride gave her loved one when asking her to be a bridesmaid. It's genuine, heartfelt and can be framed to look back on one day.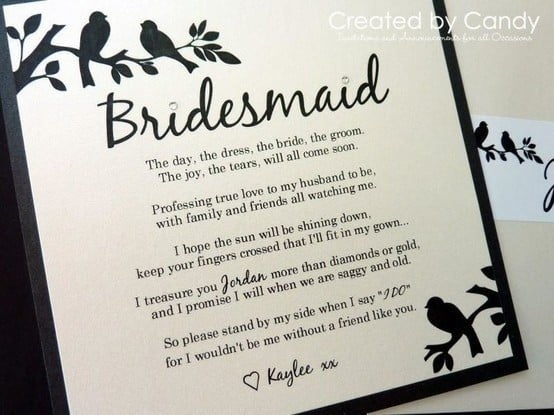 Bridesmaids are there to offer support, love and encouragement to the bride as they prepare for their special day. There is no better way to seal the deal with these ladies by asking them to be a part of your wedding in a unique way. We hope these ideas are just what you were looking for and will leave your bridesmaids saying "I Do" too!
Photo Credit: Pinterest
The Mackey House is one of the premier Savannah wedding venues, located just minutes from Downtown. For more information, please visit our Savannah wedding page, as well as join our conversation on Facebook and Twitter.