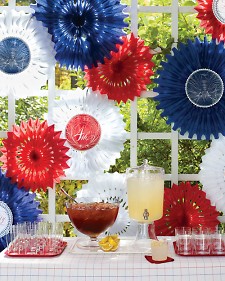 Summer Celebrations in Savannah, GA
We are getting excited for our nation's birthday at The Mackey House – The Fourth of July is one of our favorite holidays – with cookouts, family, fireworks, and red, white, and blue, adorning everything – how do you not love it?
That got us thinking about planning for large parties and how The Mackey House Event Planning Specialists work diligently to create memorable events for every occasion, ensuring the perfect venue, the personalized flair, and all the trimmings for all of our clients.
When asking our team how they would plan for family gatherings using a Fourth of July theme – they came up with some amazing ideas:
1)      Tissue Fan Fireworks – while it has been hot and dry in Savannah, Georgia, the draught has ended so fireworks won't be as dangerous as in years past – but in looking for fun décor ideas, we found this on Martha Stewart's website and know we'll incorporate it at some function we're able to host – sooner rather than later!
2)      Food – of course no celebration is the same without the FOOD – so here we found some new takes on some old favorites for picnics and family gatherings, everything from barbeque to grilled vegetables from The Food Network – so check out some classic faves with a new spin!
3)      Beverages – alcoholic and non-alcoholic, the food is only as awesome as the drinks used to wash it down – we turned to an old favorite, celebrations.com, to find this list of red, white, and blue themed drinks…and remember, just because the recipe calls for alcohol doesn't mean you can't make it without.
4)      Games – especially if children will be in attendance, you'll want to have some games for the kids to play – and thanks to Independancedayfun.com – we found this great list of games which includes red, white and blue name game.
Everyone sits in a circle and the leader, who holds a ball of red, white, and blue yarn with one end tied to his/her finger – names an object that is
red and throws the ball of yarn to the next person…who names an object that is blue and wraps the yarn around his/her finger, and tosses the
ball of yarn to another person in the circle…who wraps the yarn around his/her finger and names an object that is white, and so on until
everyone in the circle has had a turn, and the result is a beautiful starburst of red, white, and blue yarn.
Need more ideas?  Why not let us host your event?  Give our expert event planners a call for ideas, tips, and thoughts on parties whether at The Mackey House or at another venue in town.
The Mackey House is one of the premier Savannah wedding venues, located just minutes from Downtown. For more information contact us and as join our conversation on Facebook and Twitter.