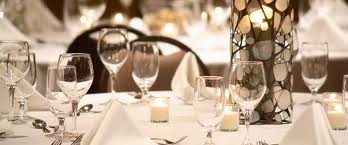 Wedding Receptions in Savannah, GA
Planning your wedding's reception is really the biggest portion of planning the entire day.  From guest lists, to food, to music – the list never ends.
How do you plan a reception that gives everyone something to do and introduces people that may not know one another well?  We've seen a few things we'd like to share:
1)     Ballroom Dance instruction – It's the groom's biggest nightmare (stereotypically, but we're going with it).  The first dance with his new wife in front of hundreds of their closest friends.  We had one wedding offer dance lessons at their reception.  Boys and girls got in a circle and learned one step with each partner in the rotation (the boy circle went right and the girl circle went left).  The lesson stopped when you got back with your original partner and the two of you continued to "practice."  It got everyone talking and gave the men in the room an excuse for "new steps."
2)     Disposable cameras on the reception tables – Nothing is a bigger conversation piece than pictures.  This actually served two purposes – one getting people at the table to talk to one another and maybe pose for fun pictures and two you didn't have to rely on the photographer to get all the great candid shots of your party – the party did that for you.
3)     Great party favors at the table – Does your wedding have a theme?  What about take away items that fit that theme?  Or using love as your theme – chocolate bars that say "Love is Sweet" or key chains that read "The Key to Happiness."  These are keepsakes your guests will not only keep but will talk about with people they may not know very well…yet.
4)      Interesting centerpieces – A great centerpiece at each of your reception guests tables can be a great conversation starter – if they light up, if they are real flowers in a fun design, if they are digital and possibly interactive – some of the new rental centerpiece places have LED lights that change color and are reflective which is a nice way to round out your party.
Whatever you decide to do, just be sensitive to the fact that some members of you and your spouse-to-be's families may not know one another and it's a good idea to plan ahead to give them something to talk about during the festivities.  And if you need ideas, give us a call, we'll be happy to help because at
The Mackey House, we are the place for events!
The Mackey House is one of the premier Savannah wedding venues, located just minutes from Downtown. For more information, please visit our Savannah wedding page, as well as join our conversation on Facebook and Twitter.