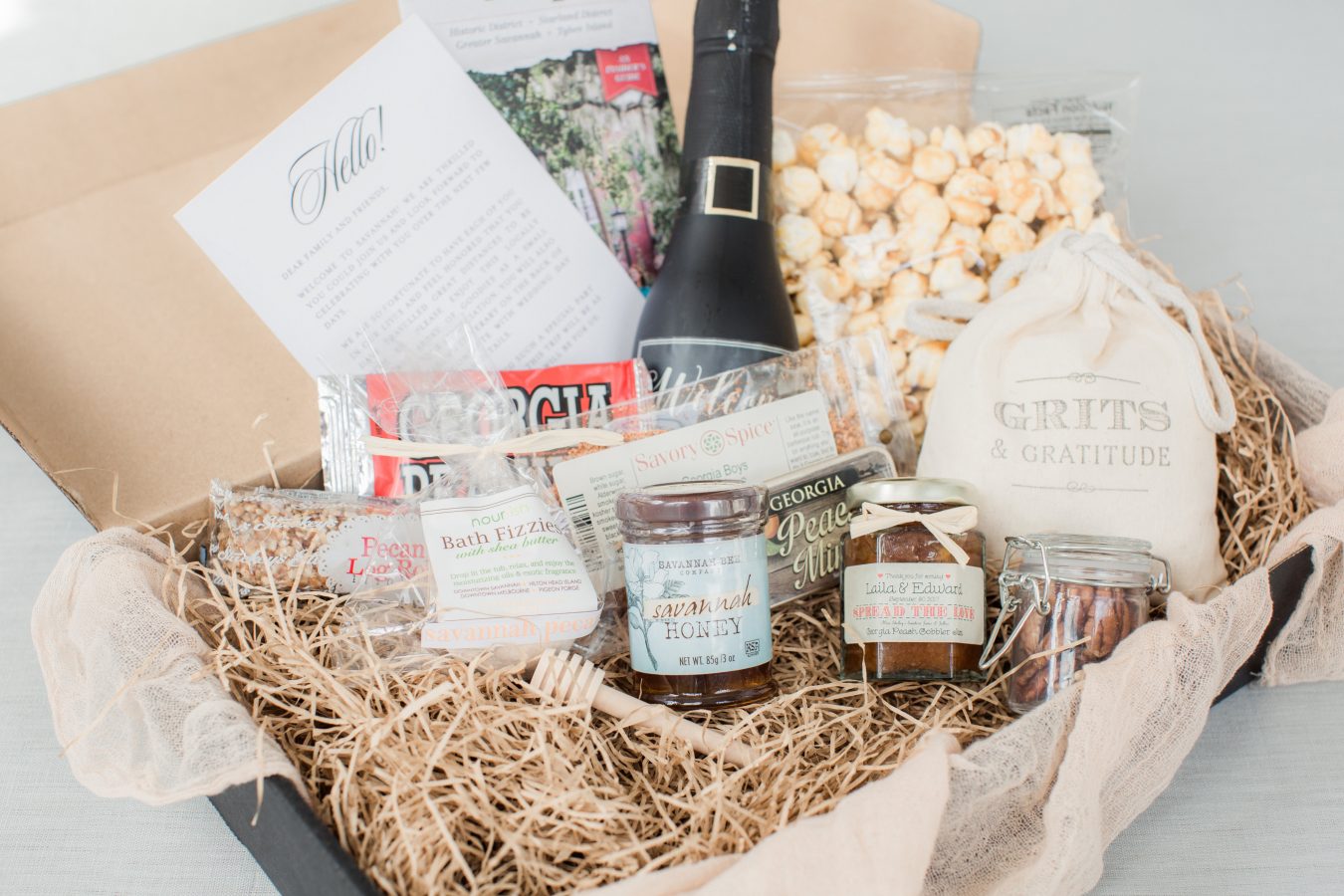 Welcome Out-of-town Guests in Style with These Savannah-Inspired Welcome Bag Ideas
Some of your out-of-town guests will be familiar with Savannah. After all, it's a favorite place to escape on vacation. For others, it will be their first time in this historic and beautiful city. Whether it's their first or fiftieth time visiting, welcome your out-of-town guests and VIPS in style with these Savannah-inspired welcome bag tips and gift ideas.
Tip #1: Keep bulky items to a minimum.
Image via Homesick 
Guests traveling by air may not have room in their luggage for bulky welcome-bag swag. Make sure your thoughtful gifts don't get left behind by choosing items that are small or that they can consume over your wedding weekend.  They'll feel well taken care of and will enjoy the special treats you selected for them.
Tip #2: Choose small, high-impact items that are truly meaningful to you.
Image via Savannah Gift Box 
If you add a gift that guests can take home to enjoy, make sure they are small enough to fit into carry-on luggage. Better make sure it can fit into a handbag or small tote. Opt for gifts that are meaningful to you or represent a unique aspect of your relationship, instead of selecting cheap chotchkies.
Tip #3: Include items that will help guests enjoy their time in Savannah
Insider's Guide available at Visit Savannah 
Travel and visitor guides, which are free, are a must in any welcome bag. It helps visitors better plan their trip and enjoy their time in Savannah. Consider including a dining guide as well, but don't go overboard. One or two guides are usually plenty. 
Feel free to add some of your own favorite experiences and attractions in your welcome letter.
Tip #4: Add a welcome note. 
Image via Zazzle
Welcome your VIP and out-of-town guests, expressing how much it means to you to have them celebrate your wedding day with you. Include an itinerary on the back to keep them on track
Tip # 5: Include Food and Drink Items:
Image via Savannah Bee
While Savannah enjoys temperate weather year-round, summers can be hot and winters cool. Adding water (flat or sparkling, flavored or not) will help guests stay hydrated in the summer months. A selection of tea or hot chocolate to cozy up to in the winter can make guests' downtime in the hotel room all the more lovely. 
Guests love it when you include snacks.  They allow your guests to sample local favors immediately (or save them for the trip home). We recommend something sweet, something salty, and something Georgian. 
Make sure items they'll take home,  like honey, are small enough to carry on the plane in a purse or computer bag. Avoid full-sized items. Sample sizes are perfect for giving guests a taste of Savannah.
Here are some of our favorite local treats: 
Tip #6: Put it all in a tote that serves as a forever souvenir. 
Image via Claudia Pearson via Etsy 
Totes are a great way to keep welcome bag items together. Your guests will also love them on shopping excursions to Plant Riverside District or River Street. 
Customize with your wedding day colors, but consider omitting your names and wedding date. While it's fun to include your names and wedding date on stationery, signage, and paper products,  leave it off gifts. We promise your guests will remember your wedding every time they use your tote and it will get used more often and for longer if you omit your names.
Looking for more gift ideas?
Savannah is known for its shopping and galleries. We invite you to shop local for truly meaningful and inspiring gifts. Here are a few places to look online or on your next site visit. 
Savannah has well-earned itself a reputation as one of the most ideal wedding destinations. If you're not from the area and are planning remotely, be sure to check out our tips for throwing a destination wedding in Savannah, too.
And if you're still searching for the perfect wedding venue, we invite you to learn more about our Savannah event space and how we can help make your dream wedding a reality. Contact us today to schedule a tour and start planning your special day!