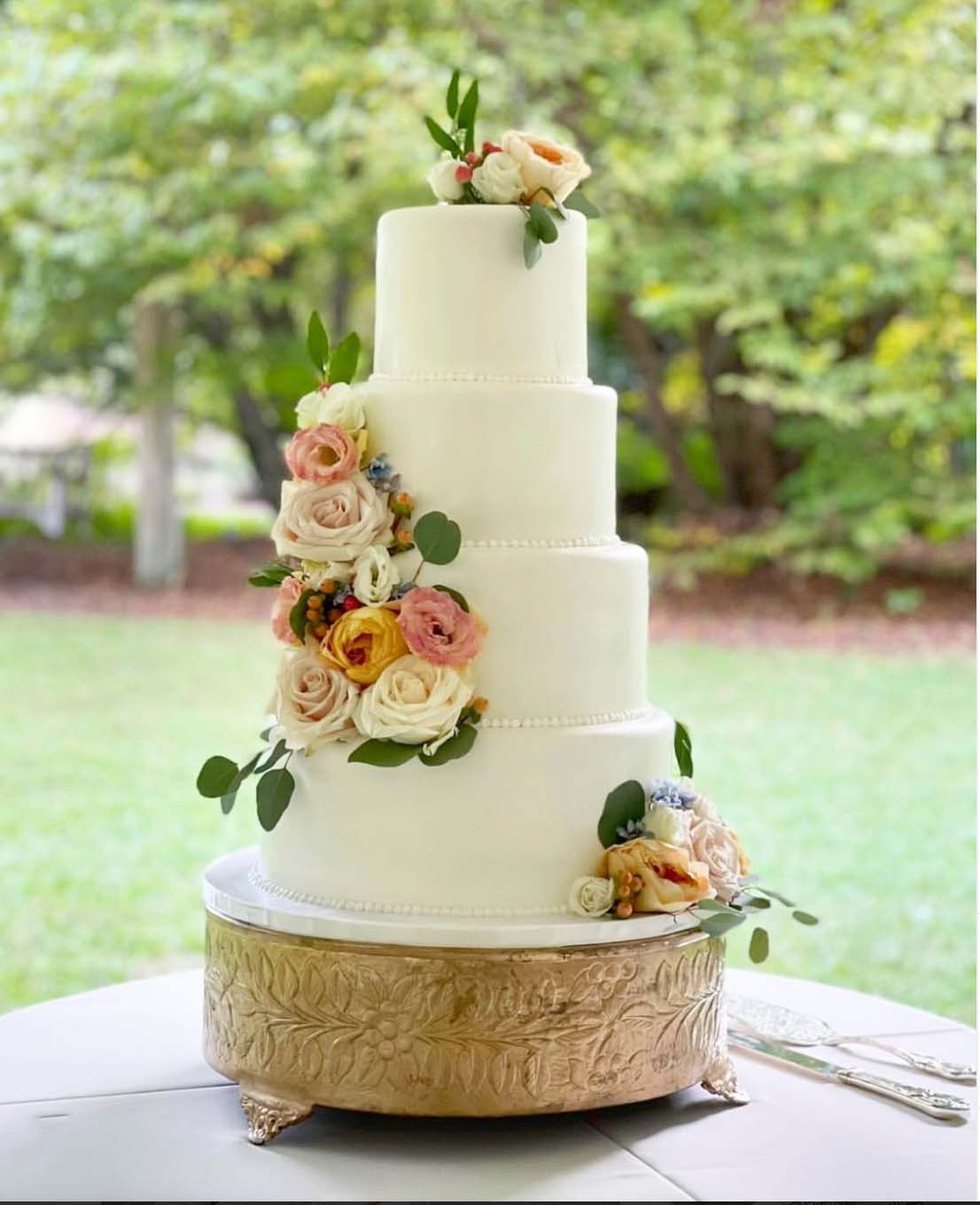 Top Wedding Cake Tips for Savannah Couples
The wedding cake is often a centerpiece of the reception and many couples work with their bakers to design a cake that reflects their personal style as well as their wedding style.
With so many beautiful designs to consider, we turned to some of Savannah's top cake bakers and designers for advice on selecting the perfect wedding cake, from flavors, to design, to working with your baker, here are our top tips taken from interviews with two of  Savannah's top bakers: Wicked Cakes of Savannah and Dewey's Delights.
Start with you!
Because your wedding cake will be a centerpiece of your reception area and a delicious treat for guests to end the evening, it's important that it reflects both your personal style and the flavors you love.
When it comes to flavor selection, many modern couples often consider their guests and put those preferences above their own when selecting food and beverage choices. However, Abby Longwater from Wicked Cakes of Savannah reminds her couples, "This is your wedding day! Choose flavors that YOU want, not your guests."
While you may want to provide options that most of your guests will enjoy, but also considering your favorite flavors, you get to share with them some of your personal likes. Think of it as you would a candy bar, where you offer guests a selection of your favorite childhood candies so they can experience the same magic you did when you first enjoyed them. The cake flavors you choose because you personally enjoy them can do the same.
Pro tip: Have a small note on your menu explaining why certain flavors are special to you. It will help guests get to know you better and make them feel more connected with you, especially if they are from the opposite side of the family. 
When it comes to wedding cake style, some modern couples confess feeling overwhelmed with the seemingly endless options and either don;t know where to start or don't know how to narrow down choices.
Dewey "Mitch" Durden from Dewey's Delights suggests sharing your entire Pinterest inspiration with your baker early, so they can help guide you. While most couples will send a single image or a cake inspiration board, Mitch asks his couples to share their entire wedding inspiration with him, from the decor to the dress to the florals to the venue to the colors and even the stationery.  He says that when he can understand his couple's wedding style from a holistic perspective, "I can get a feel for their vision as a whole and not just a single puzzle piece."
From there he can help guide his couples not only on style but also making sure their cake will fit their venue and hold up for the time of year they're getting married (see below for more seasonal tips).
Image via @deweys_delights
Consider your reception space.
Abby and Mitch both agree that your reception space matters. A lot!
The scale of the cake should match the scale of your venue space. For example, Abby advises that couples literally match their cake height to their reception space. She says, "if the reception is in a grand ballroom, consider a larger cake with either fake tiers or more cake. It will be a statement piece that will wow your guests" and doesn't get lost in the expansiveness of a large space.
Mitch agrees. He says the scale of your event space should match your cake and also recommends fake tiers as an option for creating a larger statement piece to fill a room. He warns against small cakes in large spaces, adding, "if you are having your reception in a large ballroom with tall ceilings you don't want to have a small two or three-tier cake that will be dwarfed by the grand scale of the room.  Consider making it a 4 or 5 tier cake that's more substantial.  If you don't need the additional servings, a styrofoam tier can be added and decorated and no one will know the difference."
Mitch understands that some of his couples are uncomfortable with "fake" cake.  In these cases, he suggests adding height in other ways, such as separating the tiers and adding flowers between.
Image via @wickedcakesofsavannah
Be mindful of seasonal differences.
While Savannah is known for gorgeous spring, perfect autumn, and mild winters, mid-summer can get hot, and humid in this part of the South.
If you're planning an outdoor reception in Savannah during the height of summer, and the venue doesn't have climate control options, Mitch recommends a fondant covered cake, which can withstand hotter temperatures longer. No couple wants to see their buttercream melting or intricately piped details sliding off the cake because it sat out in the heat and sun for too long.
You may also want to consider venues that have climate-control options in tented areas, like what we offer here at The Mackey House. Our clear, open-air tent on the deck has air-conditioning and climate control that helps keep both your guests and your cake cool during the hot summer months. That way you can get the best of both worlds.
Show off your quirky side with a groom's cake.
Groom's cakes are a delightful staple at Southern Weddings. Originally a British tradition, the groom's cake would provide a second (often richer) flavor profile for guests. It has since taken the South by storm and has become a tradition among Southern brides and couples who want to present their new spouse with a bespoke cake that reflects something special about them.
Abby from Wicked Cakes of Savannah suggests you show guests your or your spouse's personality with Groom's Cakes. She points out that, "groom's cakes are a fun way to incorporate your personality into your wedding," and adds that "these can be made for the reception or rehearsal dinner."
Common groom's cake styles include showing team spirit for a beloved college football or basketball team, honoring a profession such as a firefighter or a doctor, or highlighting a hobby such as a gaming obsession or an interest in a movie or book genre. There are no rules for choosing a groom's cake theme, just let your imagination and your new spouse's interests and uniqueness guide the way.
Find your perfect wedding cake and cake baker.
Wicked Cakes of Savannah. Wicked Cakes opened in late 2014, an ambitious project by Abby Longwater. Since its birth, Wicked Cakes has caused a great stir in the eclectic foodie community of Savannah, and brought Abby's creative spin on all types of cakes, cupcakes, brownies, and many other sweets!
Find Wicked Cakes: Instagram | Facebook | Email | Website
Dewey's Delights. Mitch started decorating cakes as a hobby, making little cakes for friends and coworkers for fun. Word of mouth spread and people started asking him to make cakes for their celebrations and weddings. Fast forward 10 years and Mitch is still making cakes, they're just much larger now :-)
Find Dewey's Delights: Instagram | Facebook | Email | Website